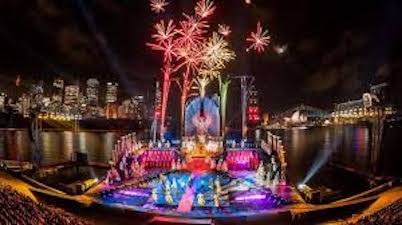 West side Story on Sydney Harbour
This year, for the first time ever. Opera Australia will present a musical for its annual Handa Opera on Sydney Harbour event. With the city skyscape and the Opera House as its backdrop, West Side Story will take to the famous overwater stage.
For the first time, they're proud to present a musical at Handa Opera on Sydney Harbour — West Side Story.
Tonight, tonight the world is wild and bright.
Going mad, shooting sparks into space!
West Side Story exploded onto Broadway in a sensational storm of exuberant dance and wistful romance.
In 2019, the landmark musical takes the iconic stage at Handa Opera on Sydney Harbour. Along with the famous songs including 'Tonight, 'I Feel Pretty' and 'America' ringing out into the balmy night air.
Featuring fireworks every night and. A pop-up venue with comfortable grandstand seating. Therefore West Side Story on Sydney Harbour will be a night to remember.
Raise a glass as the sun sets. As a result drink in the view. As you share a meal in one of the five bars and restaurants on site.
Then sit back to enjoy the enthralling show. Complete with live orchestra hidden beneath the dramatic stage and state-of-the-art sound design so you'll hear every note.
Encounter the wildness of youth and ecstasy of love. As this modern day Romeo and Juliet unfolds under a starlit sky. On the mean streets of New York's West Side, two rival gangs strut their stuff. But when a Jet falls for a Shark, the stage is set for a rumble.An all-singing, all-dancing supporting cast takes on Leonard Bernstein's legendary score, Jerome Robbins' original electrifying choreography, Arthur Laurents' powerful book and Stephen Sondheim's memorable lyrics.As the star-crossed lovers, homegrown stars Alexander Lewis and Julie Lea Goodwin reprise the sizzling chemistry of their performances together in The Merry Widow and The Phantom of the Opera.Renowned director Francesca Zambello teams up with Brian Thomson and Jennifer Irwin to create a new production for the harbour stage.Its a fun filled night – the backdrop is sensational and the performance with choreography, with its exuberant jazz-meets-ballet-meets-Latin style, translates wonderfully to the outdoor setting.
Event Details
Please purchase your tickets through authorised ticket sellers, who include Opera Australia, Sydney Opera House, Ticketmaster & TodayTix. Opera Australia will cancel any tickets that we can identify have been purchased through unauthorised sellers for more than 10% above their original cost.
Unauthorised sellers include but are not limited to Viagogo, Ticketmaster Resale, eBay and Gumtree. Find out more.
WEST SIDE STORY IS ON OPERA ON SYDNEY HARBOUR, FLEET STEPS, MRS MACQUARIES POINT – MARCH 24 – APRIL 21, 2019