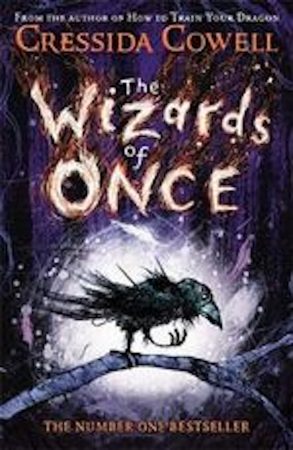 THE WIZARD OF ONCE
From the bestselling author of HOW TO TRAIN YOUR DRAGON.
Comes an exciting high-adventure series – set in an ancient, magical time, full of Wizards, Warriors, Giants and Sprites.
#1 Sunday Times Bestseller Winner of the Blue Peter Book Award
This is the story of a young boy Wizard and a young girl Warrior who have been taught since birth to hate each other like poison; and the thrilling tale of what happens when their two worlds collide.
Perfect for boys and girls who love fantasy adventure…
Once there was Magic, and the Magic lived in the dark forests. Until the Warriors came… Xar is a Wizard boy who has no Magic, and will do anything to get it. Wish is a Warrior girl, but she owns a banned Magical Object, and she will do anything to conceal it. In this whirlwind adventure, Xar and Wish must forget their differences if they're going to make it to the dungeons at Warrior Fort. Where something that has been sleeping for hundreds of years is stirring…
Reviewer's feedback
Adorable book. Illustrations that have a sarcastic wit to them which I always love. It's a children's book so of course it's a quick read for an adult. It was a wonderful story though. I find that I love great books no matter their intended audience. Madeleine L'Engle said that she simply wrote A WRINKLE IN TIME. She didn't write it for children or adults. She simply wrote it. I find my life is endlessly enriched by all sorts of books.
Back to this book. Did I mention adorable? There are two sides in the book: Wizards and Warriors. Each side has polarized so both are wrong. It's a nice unintentional allegory for the current state of United States politics. Witches are the one thing both sides can agree on. Witches have feathers and are mostly invisible until the instant they're attacking you. They have green blood. Witches were supposedly put on the extinct list yet there are signs they are back and up to no good.
Author bio:
Cressida Cowell grew up in London and on a small, uninhabited island off the west coast of Scotland. She was convinced that there were dragons living on this island, and has been fascinated by dragons ever since. She has a BA in English Literature from Oxford University, a BA in Graphic Design from St Martin's and an MA in Narrative Illustration from Brighton. Cressida loves illustrating her own work, but also loves writing books for other people to illustrate as the end result can be so unexpected and inspiring. Cressida has written and illustrated eight books in the popular Hiccup series. The unique blend of child centred humour and sublime prose made Hiccup an instant hit.
How to Train Your Dragon is now published in over 30 languages. A DreamWorks Animation feature film is out in March 2010. Also the author of picture books, Cressida has won the Nestle Children's Book Prize 2006 and has been shortlisted for many others. Cressida lives in Hammersmith with her husband and three children.
Her Books:
1. How to Train Your Dragon (2003)
2. How to Be a Pirate (2004)
3. How to Speak Dragonese (2005)
4. How to Cheat a Dragon's Curse (2006)
5. How to Twist a Dragon's Tale (2007)
6. A Hero's Guide to Deadly Dragons (2008)
7. How to Ride a Dragon's Storm (2008)
8. How to Break a Dragon's Heart (2010)
9. How to Steal a Dragon's Sword (2011)
10. How to Seize a Dragon's Jewel (2012
Hachette Australia RRP Paperback $15.99 – BUY