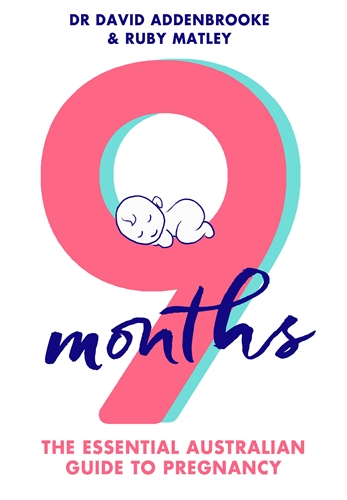 9 MONTHS: THE ESSENTIAL AUSTRALIAN GUIDE TO PREGNANCY
Ruby Matley, David Addenbrooke
Can I still dye my hair? Is it safe to sleep on my back? Why is my friend's bump bigger than mine? Can I eat soft cheese? How do I know my waters have broken? What is colostrum anyway?
Pregnancy is one of the most exciting times in a woman's life. It can also be one of the most confusing, thanks to rapidly evolving science and the sheer amount of information (true, false and otherwise) now available via the internet.
Into this fray comes 9 Months, written by an Australian country obstetrician and father, Dr David Addenbrooke, who in his daily practice sees women of all ages with widely varying conditions, and a health scientist and mother, Ruby Matley. They combine forces to provide clear, compassionate and up-to-the-minute advice for soon-to-be mums and dads.
You will discover:
– What is going on in each trimester, for both you and your baby.
– All you need to know about screening, ultrasounds and tests in pregnancy, and your options for labour and birth.
– How to cope with common symptoms, from nausea and fatigue to heartburn and back pain.
– 40 recipes for ensuring optimum health for both you and your baby, plus the lowdown on which foods are in and which are out.
– Reassuring information on weight gain, dealing with mood swings, connecting with your partner and bonding with your bump.
– Practical tips for buying maternity clothes, preparing the nursery, budgeting for a baby and packing the hospital bag.
Easy to use and comprehensive, 9 Months is a complete guide for Australian women wanting the latest advice from a medical expert as well as practical reassurance and emotional support during the sometimes scary, but often wondrous, months of pregnancy.
Author bio:
Dr David Addenbrooke
MBBS BSc(Med) BA(English) FRANZCOG
Dr David Addenbrooke is a Specialist Obstetrician and Gynaecologist. He studied medicine at the University of NSW in Sydney. He combined his medical studies with an arts degree in English literature and graduated in 2005 with four bachelor degrees.
David then underwent intern and resident training at St George Hospital, Sydney. In 2008, he was accepted into specialist training with the Royal Australian and New Zealand College of Obstetricians and Gynaecologists (RANZCOG). During specialist training, he has spent time acquiring advanced skills at The Royal Brisbane and Women's Hospital, Gold Coast University Hospital and St George Hospital (Sydney). He has also worked as a registrar in many obstetric units throughout Australia, including Hervey Bay, Sutherland, Armidale, Wagga Wagga, Bendigo, Launceston and Hobart. In 2014, Dr Addenbrooke achieved fellowship with RANZCOG and became recognised as a Specialist Obstetrician and Gynaecologist.
David lives in the Northern Rivers with his wife and three young children.
Ruby Matley has a Bachelor of Science (health sciences) with a passion for public health focusing on nutrition and women's health.
Ruby is a mother of two and lives with her husband on the north coast of NSW.
Buy: Pan Macmillan Australia Paperback – RRP $34.99